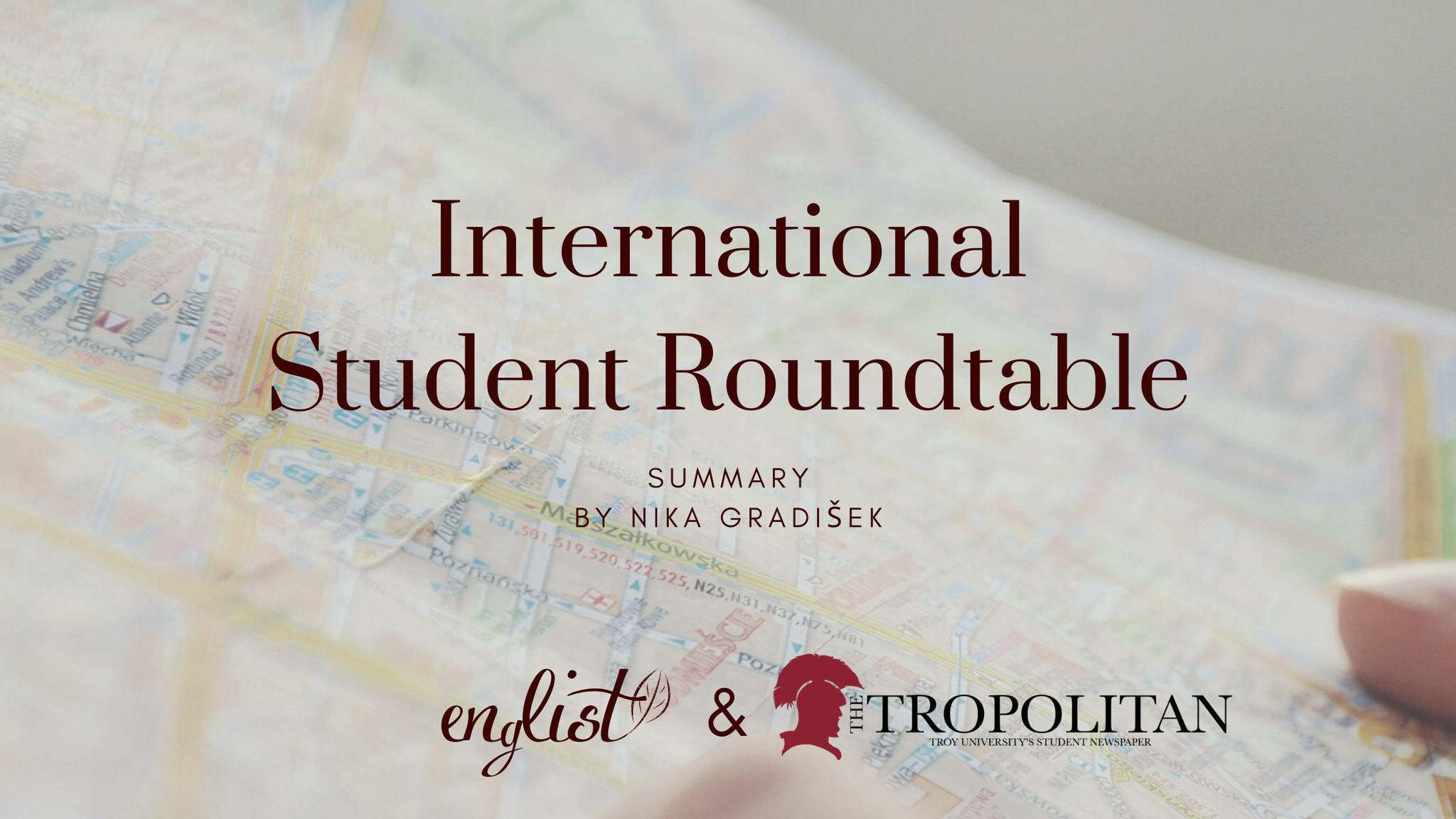 The pandemic has changed everything for people all around the world, but it hasn't changed things in the same way for everybody. What are the specific challenges that students from America, Kenya, Tanzania and Slovenia are facing currently and how do they differ? Is there a silver lining to be found in midst of social isolation and the standstill of our youth? That and more were the topics discussed at the International Student Roundtable, organised by Dr. Robbyn Taylor from the Hall School of Journalism and Communication at Troy University, Alabama, as part of international collaboration projects.
Troy University students converted to an all-online class when the pandemic started, but are now back to in-person learning with all of the safety measures in place. Slovenian students are (as we all know) currently still in the online phase, with the recent disconcerting mental health study results showing that every forth student feels suicidal. Kenyan and Tanzanian students have it even worse – their public schools couldn't afford the transition to online learning, so they haven't been having classes at all. To quote Loise from Kenya, "I feel left out". She is absolutely correct; the majority of first-world countries is too preoccupied with changes at home to notice the challenges abroad.
How can then, as Victor from Kenya put it, a lemonade be made, in this plentiful season of lemons? For Hannah from America that might mean getting used to online classes, which will help her transition into her master's programme that was always going to be online. For Joangelyne from Tanzania the pandemic brought new opportunities of connecting with students from abroad and gaining more experience in different sectors. Ariela noticed how students and adults alike were forced to create new ways of connecting with people, such as calling rather than texting, and how the extracurricular activities have found their own way of existing and expanding during the lock-down, such as having Zoom writing sessions for poetry. Victor from Kenya sees in the pandemic the opportunity to revolutionise the Internet and digitalise our projects. Some good may yet come out of all of it, even if the status quo looks rather bleak.
Journalism was the common interest – and study area – of the roundtable participants, so they dived deep into analyzing how this, too, has changed. Brady, who had done his internship at NBC News, stressed the importance of team work and international collaboration that enabled his television network to keep up with what's been going on domestically and internationally. But even more importantly – and all participants agreed –  globalisation and international connections can contribute to better and more well-rounded journalism even after the pandemic, providing access to many sides of the same story.
To finish this international collaboration on a positive note, all the students gave a first-hand account on what living in their respective countries is really like. They all seem to love our homelands just as much as they are capable of criticising them when necessary, so the discussion turned into a lovely little tourist pamphlet, inviting people from abroad to come experience the beauty we are all witness to. Therefore, dear readers, if you haven't decided on the next location you would like to travel to when the pandemic is over (supposing that we actually see that day come), you are welcome to listen to the recommendations yourself at: